These are events for families which may include trainings, web events, seminars, groups, classes conferences, etc.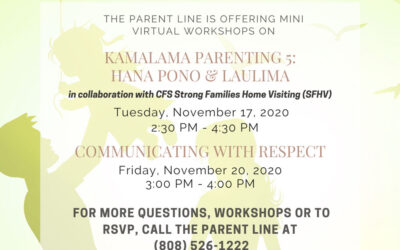 Nov 17, 2020 – The Parent Line is Offering Free Mini Virtual Workshops.
Articles by Age
Click on the ages below to see articles by age.
Articles by
Protective Factors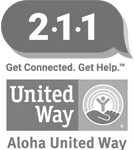 Call 211
Call & Text 1(877)275-6569
Chat AUW211.org
Find food, shelter, financial assistance, child care, parent support, elderly care, etc.  Search online database 24/7.
Daily 7am-10pm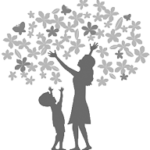 Call (808)526-1222 – Oahu
Call 1(800)816-1222 – Toll Free
Chat TheParentLine.org
Resources for parents on child behavior & development, parenting, caregiver suport & community resources. Closed on State and Federal holidays.
Monday -Friday 8am-6pm
Saturday – Sunday 9am-1pm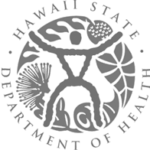 Hawaii CARES
(808)832-3100 – Oahu
1(800)753-6879
All Islands, Toll Free
1(800)985-5990 Multilingual COVID-19 Emotional Distress

If you or a loved one is feeling anxious, has a crisis, thinking of suicide, or need access to mental health or substance use treatment, experiencing distress related to COVID-19 & other disasters, help is available. Visit Hawaii CARES.
Daily 24/7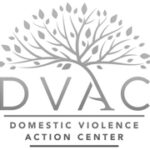 Domestic Violence Action Center Help Lines
Call (808)531-3771 – Oahu
Call 1(800)690-6200 – Toll Free
Text 1(605)956-5680
If it is an emergency, please call 911. Domestic Violence Action Center provides information on ways to get help & answers to questions about domestic violence.
Call Monday -Friday 8am-5pm
Text 24/7